Let's shape our future together. Your voice matters in articulating a vision for Blue Hill that reflects community priorities and desires.
What is a Comprehensive Plan?
A Comprehensive Plan is a roadmap that describes the town's vision for what it hopes to become – or retain – over a period of time, typically a decade. Topics addressed in a Comprehensive Plan generally include housing needs, economic opportunity, open spaces and natural resources, historic and cultural resources, marine resources, transportation, and future land use.
Maine state law establishes standards for Comprehensive Plans. This provides statewide consistency while allowing communities flexibility to address their specific needs.
Why Should Blue Hill Update its Comprehensive Plan?
Increased Funding Eligibility
Having a state-approved Comprehensive Plan is a "threshold" requirement for an increasing number of state grants and programs. Without a Comprehensive Plan, Blue Hill may lose funding opportunities.
Potential for Reduced Property Tax Burden
More opportunities for state and federal grants could reduce the amount of property tax dollars that must be raised for municipal projects.
Maximize Local Control
Under state law, towns that have state-compliant Comprehensive Plans in place have more control over how state agencies can undertake projects within the town.
Community Vision and Priorities
Developing a shared vision for a community is a worthwhile exercise that can help reframe priorities for the town government.
---
Is a Comprehensive Plan Binding?
No. A Comprehensive Plan is a planning document that describes, in general terms, a vision. Any binding implementing of an element of the Comprehensive Plan would be required to be adopted through an ordinance, which would require approval by Blue Hill voters.
---
Tell Me About Blue Hill's Comprehensive Planning Effort…
The Blue Hill Comprehensive Plan Committee has been appointed by the Select Board to develop a Comprehensive Plan for Blue Hill to be reviewed and voted on at the Annual Town Meeting in April 2024.
All Comprehensive Plan Committee meetings are open to the public and, at the Chair's discretion, public input during those meetings is encouraged. The Committee expects to conduct a Town-wide survey to solicit the views of all Town residents and property owners, and to hold several public working sessions to allow the public to provide feedback on the Committee's work.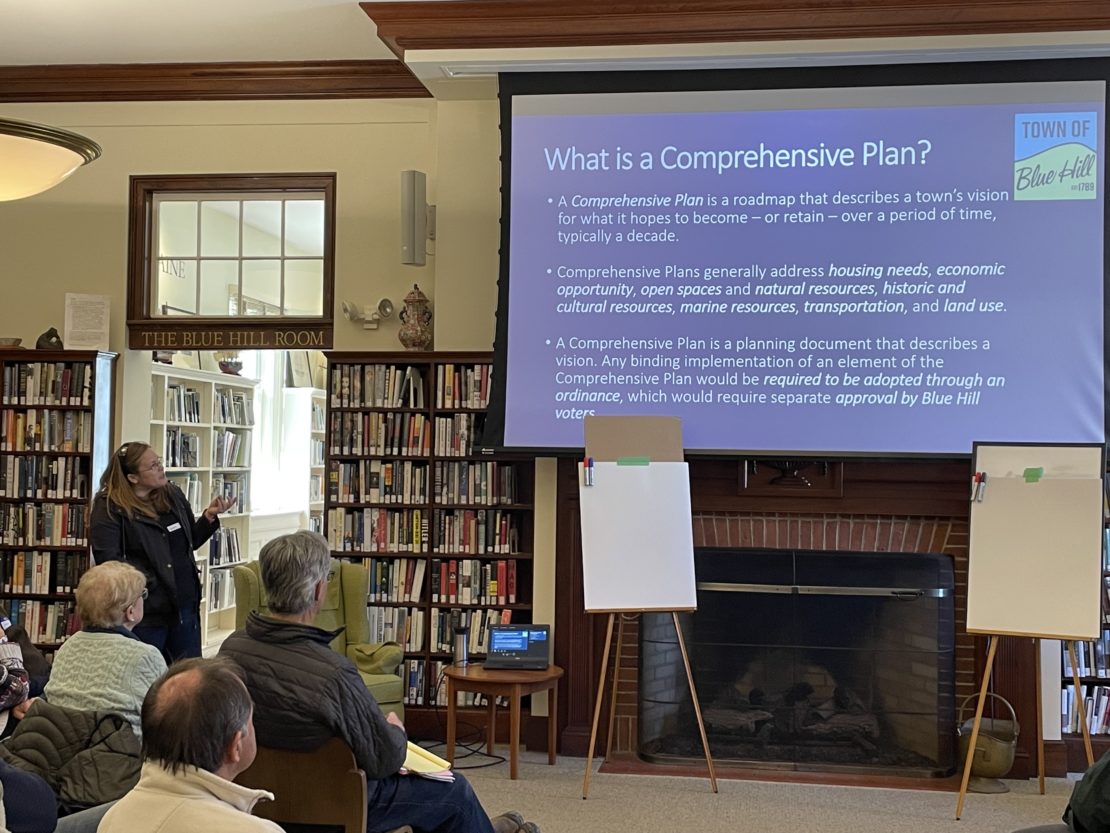 ---
Meetings
The Comprehensive Plan Committee, at this point, does not meet on a fixed schedule. Meetings of the committee, when practicable, will be listed on the Town calendar. All such meetings (except for "executive session" portions of a meeting) are open to the public.
---
Members/Contact Information
Current members of the Comprehensive Plan Committee are listed on the Town directory, together with contact information for the committee chairs.
Email us: compplan@bluehillme.gov